Our November meeting was a time to share our first quilts (or the earliest ones we could get our hands on) as well as our most recent makes. We saw some common themes: many started quilting to commemorate a special occasion like a wedding or birth…and remember the days of cardboard templates cut from cereal boxes? It was fun to hear the stories and see how far quilting has come.
Suzanne made her first quilt 40 years ago, and her grown son still likes to snuggle with it when he comes home.
Suzanne's latest project is a series of bird blocks using fabric paint and stitching.
Pat says she was considered a "rebellious" quilter for using the now well-known watercolor piecing technique 24 years ago.
Now Pat is inspired by her husband's photography, including this image of a lioness and her cub in Botswana.
Like many quilters, Jackie starting quilting when she was expecting her son. She no longer has that quilt, but she remade his baby quilt for her grandson four years ago.
Jackie's recent work is a very colorful rendition of Tula Pink's 100 Modern Blocks.
Sue made this quilt in 1974 for a friend's wedding. She used cardboard templates and hand-pieced the whole thing!
Sue recently completed this piece featuring trees made of many triangles, with cardinals nestled in their branches.
Christine made this Crazy Mom Quilts pattern in bright, modern colors in 2011.
Christine's latest make is this modern rings quilt.
Indira learned to quilt when she moved to the U.S. and was inspired to make a quilt that took two years to hand applique.
Indira's in-progress quilt is a hand-stitched sashiko table runner.
Tina's first quilt was a sampler made in 1990 when she was "an unemployed newlywed." The fabric was from her mom's stash.
Tina recently made a map quilt based on a guild workshop with Timna Tarr. It's a map of the oxbow in the Raquette River in upstate New York.
Chrissy chose an Eleanor Burns pattern for her first quilt, which she made to fix up her first apartment in 1996.
Chrissy made her recent quilt as part of the guild's flying geese block swap and challenge.
Sisan made her first quilt in 1988. She hadn't yet learned to make traditional bindings, so she just folded the edges in and stitched them closed.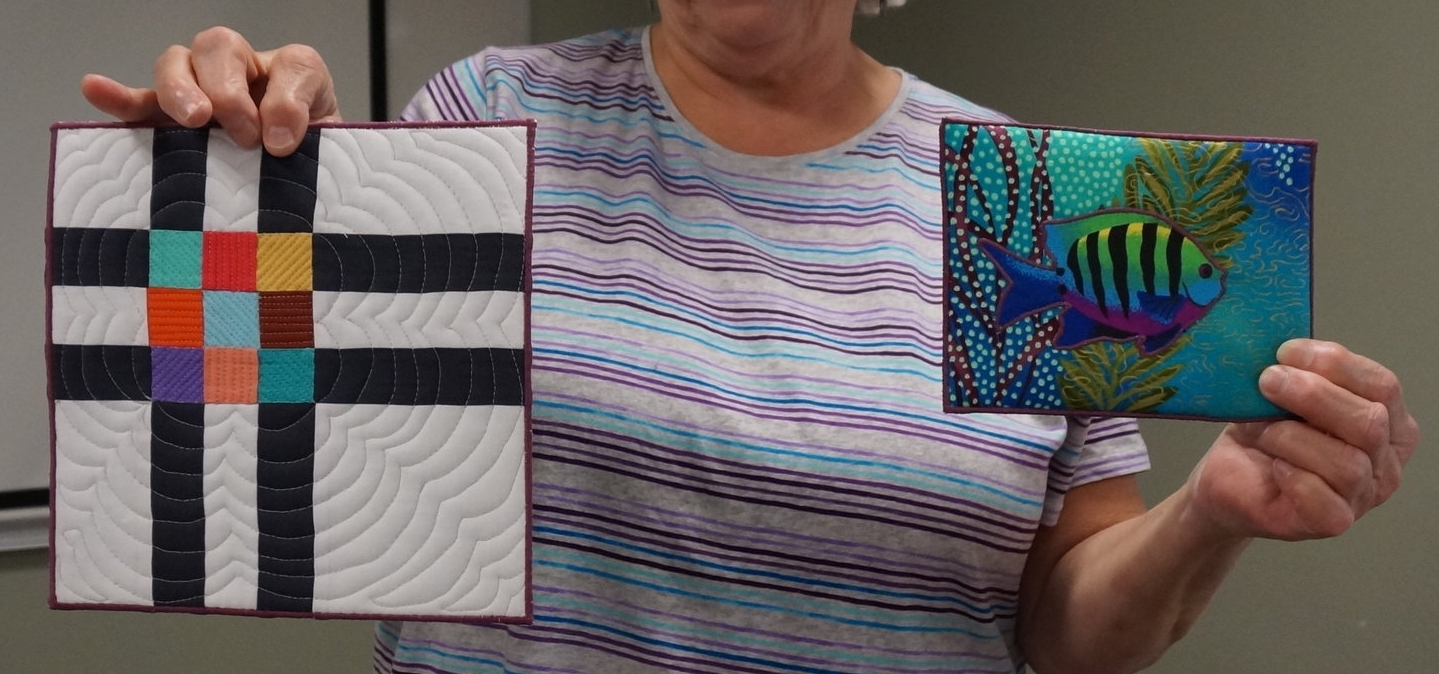 Lately, Sisan has been making mug rugs and quilted cards.
Carol says her first quilt is also her most recent quilt! Although she's worked with textiles for years, this is the first piece she considers a quilt.
Now Carol is working on another collage quilt.
Karen started her first quilt about 14 years ago and only completed the top. She still may finish it…someday!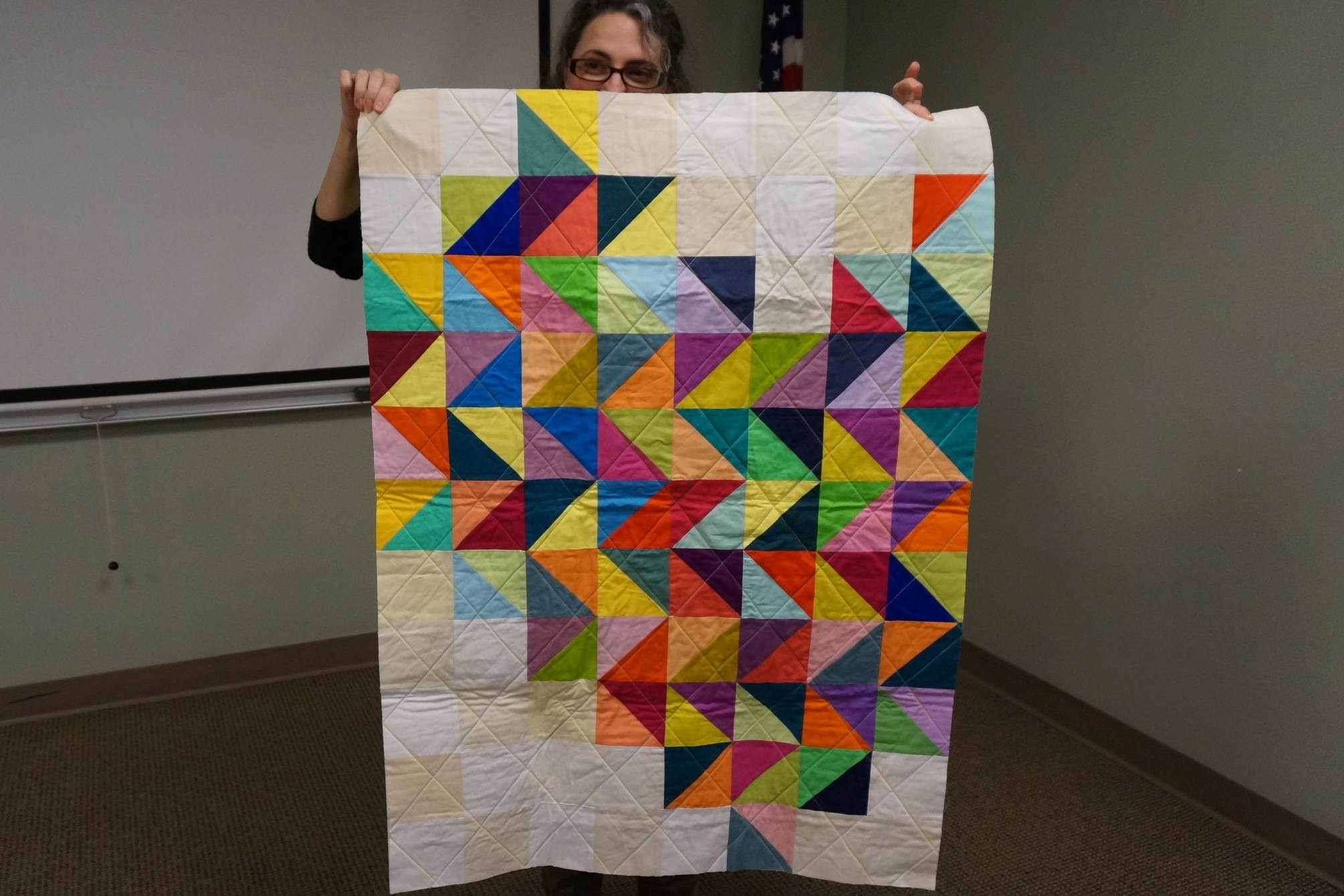 Karen's latest creation is a pixelated half heart—can you see it?
Beverly made her first quilt, a double wedding ring wall hanging, in a class.
Beverly's recent quilt was also made in a class—a workshop with Denyse Schmidt.
Denise made this quilt during a class she took in Bristol in the 1980s. She didn't realize she was supposed to finish the whole top before layering and quilting the blocks, so she had to do some creative sewing to put the quilt together.
Denise's latest quilt features charm square circles appliqued to a scrappy low volume background.
Kathy first made a quilt as a teenager, and since her father was a doctor, she used old X-ray films as template material. She made the quilt above when she was newly married in 1987.
Kathy's recent quilt features "hidden" half-square triangles.
Suellen's first quilt was a Georgia Bonesteel dresden plate quilt, which she gave away. The later quilt shown above was made for her granddaughter.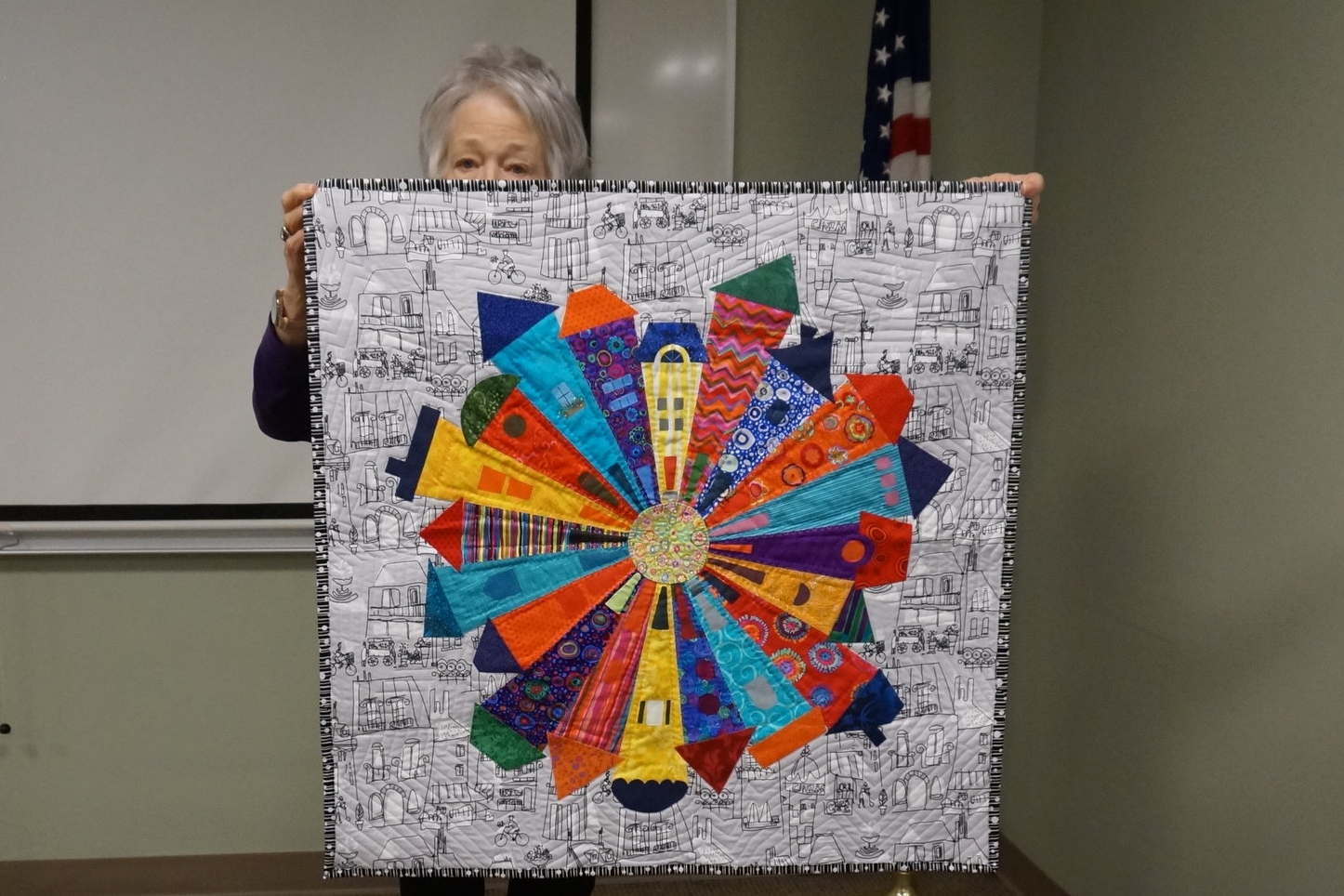 Suellen's recent quilt is a modern take on the dresden plate—the Dresden Neighborhood.
Lil's log cabin quilt was from the Eleanor Burns "Quilt in a Day" pattern. She made it for her dad with a double batting and hand-tied it.
Lil made her recent wall hanging with flying geese blocks from the guild's block swap.
Christine started quilting in 2012 and made her first quilt while she waited to adopt her second son.
Christine finished the top for her latest quilt-in-progress at the recent RIMQG retreat. It's the "Rebel Quilt" by Libs Elliot, and Christine was even more of a rebel because she pieced the blocks in a different order!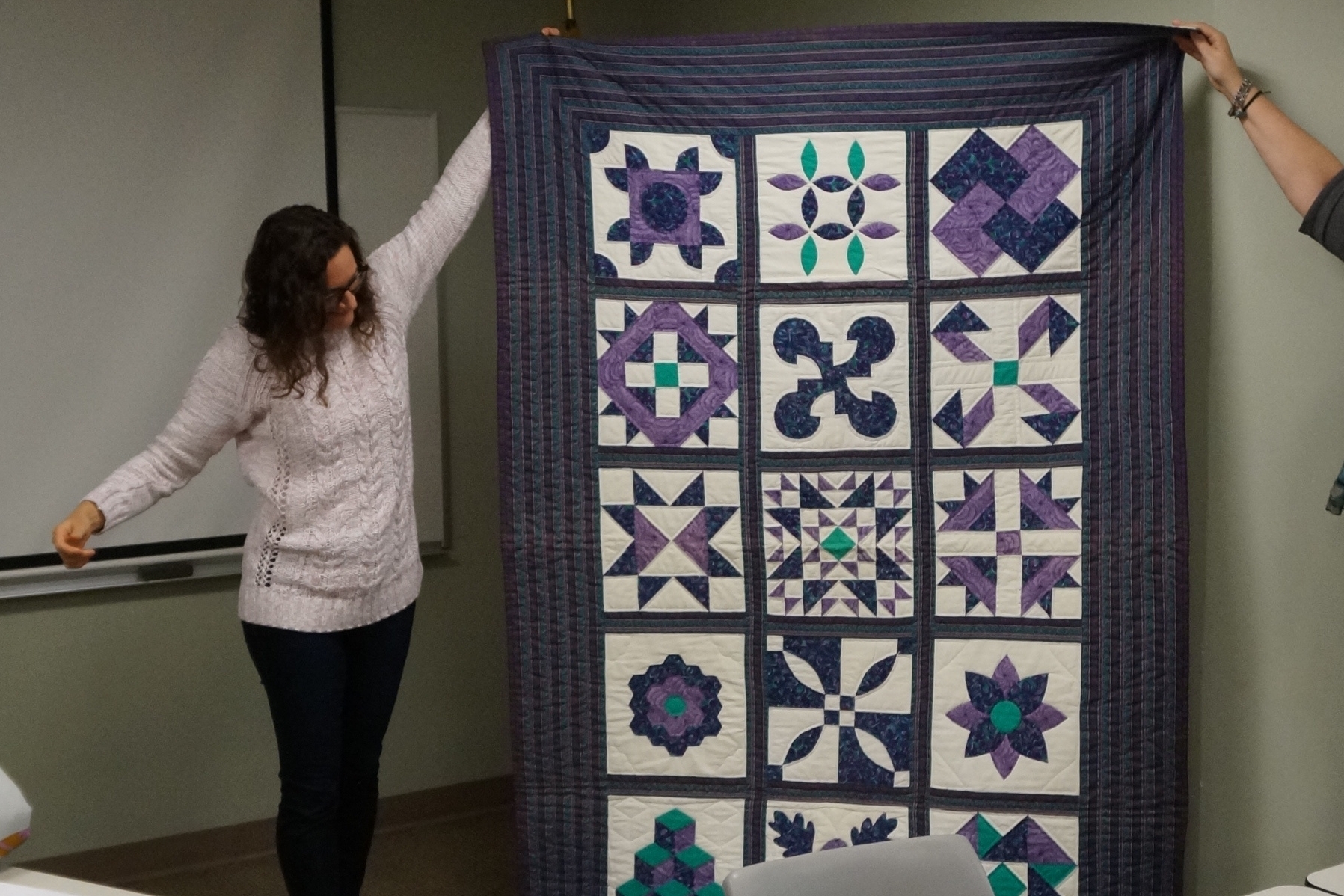 Leslie's first quilt was made of wool and hangs in her parents' house. Her second quilt, above, was a sampler pieced and quilted almost entirely by hand during a class.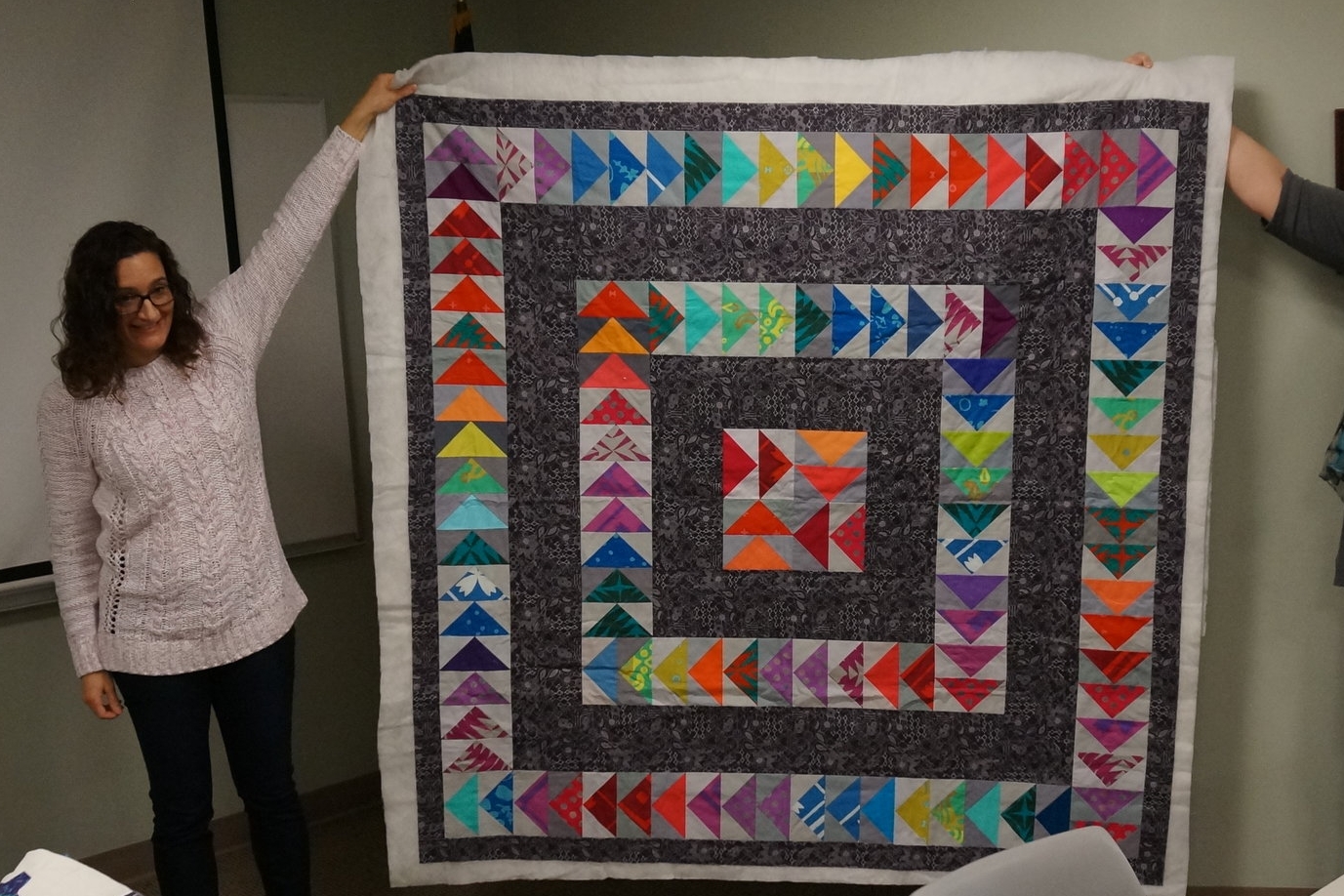 Leslie's latest quilt (still unfinished!) was a result of the guild's flying geese block swap.
Show & Tell
We had time for a few show & tell quilts…